Here's how Rusty looked soon after initial purchase: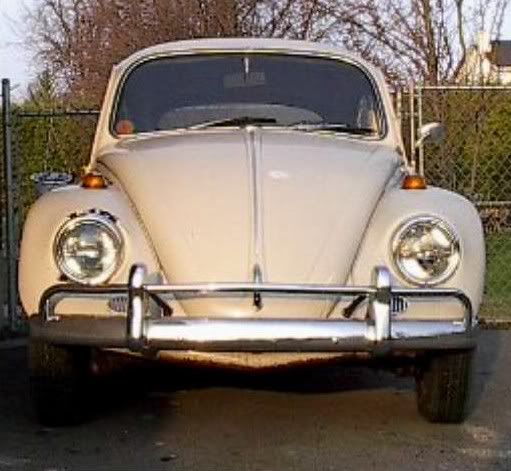 Here are a number of work in progress shots from the past few years:
Rusty's Photobucket Album
Soon after the VWTrends issue with Dave Evans' Herbie 'Penny' on the cover, I found my '67 in the local Auto Trader. After finding a what to look for when buying a VW article online, I checked out the car, knowing what to watch for with regard to '67 only parts, and found this to be a viable restoreable car. It ran, and was mostly all there, had the '67 only parts in reasonable condition, and had a bunch of visible rust...and some that was not as visible.
This restoration has taken longer than originally thought, partly due to being laid off in 2001 for about 10 months.
I've got some other pictures to find on discs, and (I think) a few others to scan...
From what I can tell, this car has had at least 7 owners...our MOT has only the last 6 known owners, but this goes back to about 1971...it has also had 4 paint jobs on top of the factory Savannah Beige (I scrapped most of them off with a straight blade), and has had at least one good bump on the right front, and one out back on the right rear. Not all of the repair work was top shelf, and was more an indication of the repair work of the time. I'm not sure what year the car was off the road, but I found a repair bill from July 1988, when the heater boxes were replaced, and some brake work was done.
The plans are still for basically a Herbie Rides Again replica, based on the '67 stunt car that was used in the movie.
Seen here, crashing Hawk's warehouse door:
I'm not sure how much more work will get done before the snow flies, but we're hoping to get the engine back in.