I recently found this pic of my first car from 1992.
(Photo below)
I learned to drive a stick in this car. My dad drove it home from the guy I bought it from, then I took the keys and just went out in the desert and learned to drive it. Self-taught LOL.
It came to me in primer gray, but it was originally L60B Elm Green.
It had Cal rubber already and the sweet Ansen slot mag wheels you see here as well as early style seats that had already been reupholstered in blue velour (very chic).
I (being so trendy) added the "Wink" mirror and the aftermarket Italian style side mirrors. I also added the chrome eyebows and "dechromed" the exterior. Then added the sidemount antenna in front of the driver door and relocated both license plates to the far right side of the bumpers.  I also added '66 tail lights.
In the engine compartment I added lots of chrome and painted all the tin bright yellow. I added the clear dist' cap and even put the "Hawaiian Punch" can on the coil. It was just a 1600 dual port. 
After this pic was taken I added one piece front windows and pop-outs on the rear quarters.
Obviously I had no clue what I was doing or what direction to go in.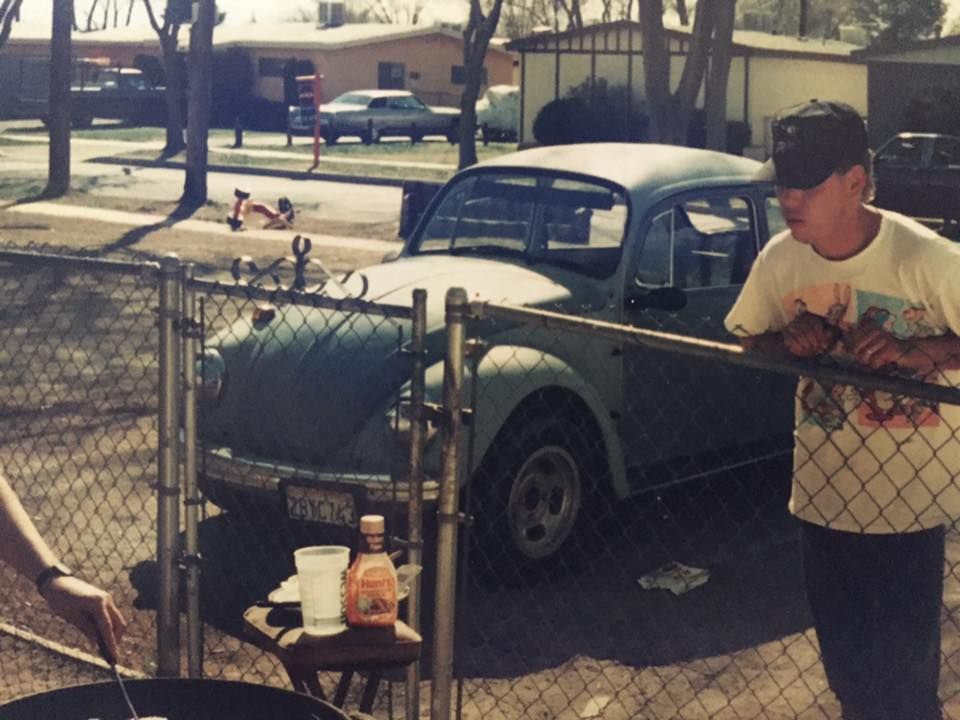 I kept this car about 15 years and was T-boned driving to work one day by a lady that didnt see me. People never saw me, it was surreal how many people pulled out in front of me. after that I sold it to some guy for 200 bucks .